IKB Kip in Nederlands
IKB Kip auf Deutsch
IKB Kip
Cooperating to produce a fine piece of poultry meat whereby food safety and quality are paramount. That defines the philosophy of the IKB Kip Certification Scheme.
The quality and safeguards of IKB Kip
The IKB Kip certification scheme is a global chain quality system, developed by and for the entire poultry meat sector. All links in the chain from breeding to the abattoir participate. This ensures quality and safeguards for all links in the chain, which contributes to safe and healthy poultry meat. Food safety has top priority within IKB Kip. IKB Kip provides guidelines for operational management practices and, among other things, helps the participants to comply with the applicable legislation and regulations. IKB Kip also creates added value by incorporating non-statutory standards. Companies active in the poultry meat chain who wish to demonstrate that they go beyond the legal obligations and want to contribute to a robust sector can register with IKB Kip.
Dynamic quality system
IKB Kip is a dynamic system that is constantly developing. As the sector is a co-decision-maker regarding IKB Kip, new insights and the latest developments are closely monitored. In addition, IKB Kip continues to work on creating confidence in poultry products and promoting a good image of poultry (meat).
IKB Kip is committed to:
IKB Kip safeguards food safety by focusing not only on its own participants, but also on companies that provide products or services to IKB Kip participants. For example, IKB Kip places requirements on poultry service companies (IKB PSB certification) and animal feed companies (GMP+ certification) and provides tips on how to safeguard incoming flows such as cleaning agents. The end product is only IKB Kip worthy, when all the downstream links in the production process are IKB Kip certified. From egg to chicken thigh.
IKB Kip cooperates with various links in the sector on research into even higher levels of animal welfare. An example of this is research into reducing injuries to broilers that can occur during catching/loading, transport and slaughter. IKB Kip is examining how the Certification Scheme can contribute to further reducing such injuries.
IKB Kip, stimulates animal health by promoting the one-to-one relationship between a poultry farmer and an assured poultry veterinarian Geborgde Pluimveedierenarts (GPD) (Assured Poultry Veterinarian). The vet serves as a sparring partner when establishing the animal treatment plan and animal health plan for your farm.
IKB Kip considers it important to reduce the use of  antibiotics and to combat resistance to antibiotics. Participation in a self-monitoring programme to monitor critical substances is therefore included in the regulations. IKB Kip supports its participants by performing an assessment of antibiotic use at IKB Kip certified rearing and broiler establishments. This assessment enables companies to compare their performance with fellow companies.
If you have any questions about IKB Kip, the regulations or supplementary legislation and regulations, please contact the service desk. The team can be contacted by telephone on + 31 (0) 88-998 4340 or by email at info@ikbkip.nl. For answers to frequently asked questions, please visit the website.
Anyone can report (anonymously) situations or incidents that may seem improper or abnormal , or possible abuses, via the IKB Reporting Centre  By receiving signals in time, IKB Kip  hopes to prevent incidents and maintain consumer confidence. Reports can be communicated via e-mail (meldpuntikb@avined.nl) or by telephone (+ 31 (0)88-988 4390). Together we know more and can keep the chain strong and safe.
Certification
IKB Kip inspections are independent and safeguarded according to ISO/IEC 17065. The inspections are performed by approved Certifying Authorities (CAs). Useful checklists have been developed to support participants during inspections.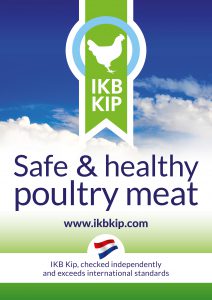 Disclaimer
The content of the English IKB Kip website (ikbkip.com) has been translated with the greatest care and accuracy. In the event of any disagreement concerning the correct translation, the content and interpretation of the English IKB Kip website (ikbkip.com), the content of the Dutch IKB Kip website (ikbkip.nl) takes precedence in all cases.